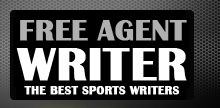 Yankee Addicts
Categories
Featured Sponsors
June 2011 Archive
June 26, 2011
Plaxico Burress is out, and he's back. The unrestricted free agent was released from prison and now some of the biggest questions during the lockout are where he will land ...
June 25, 2011
As a 49er fan myself, I have high hopes about the coming season.My first hope is that we actually have a season. Everything indicates that will happen now.My second hope ...
June 25, 2011
While many teams will not want to touch Plaxico Burress due to his age and his recent inactivity in the NFL, Burress is still a top free agent when NFL ...
June 25, 2011
The NFL is the most popular sport in the United States. It is currently in a lockout, and if a deal doesn't get worked out soon some regular-season games will ...
June 25, 2011
Since the beginning of the post-Marino era, the Miami Dolphins have struggled.Since Dan Marino retired after the 1999 season, Miami has made the playoffs just three times, finished with six ...
June 25, 2011
Ben Roethlisberger's broken foot from last season may not have hampered the team so much that it prevented them from reaching the Super Bowl, but it appears to be causing ...
June 25, 2011
It's no secret that if you wish to be competitive in your league, you can't ignore that the receiver position is critical for your ultimate success. Whether in your initial ...
June 25, 2011
Several news sources, including Adam Schefter and the National Football Post, reported recently that the new proposed CBA will include the return of the four-year accrued service rule (plus expired contract) ...
June 25, 2011
Finally, after more than a decade, the Washington Redskins have turned a new leaf and a culture change is officially in place under the new regime of Mike Shanahan. Before last ...
June 25, 2011
We are finally beginning to see some signs that the owners and the players will come to some sort of a resolution in the near future.NFL and fantasy football fans ...