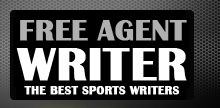 Yankee Addicts
Categories
Featured Sponsors
October 2015 Archive
October 31, 2015
Investors in the Dallas Cowboys' Dez Bryant are hoping he dons a superhero costume and returns to action Sunday versus the Seattle Seahawks' stingy secondary. While actually wearing such an ...
October 31, 2015
The Jarryd Hayne era with the San Francisco 49ers has come to an end after the team waived the former rugby star.  The 49ers announced the move on their official website, ...
October 31, 2015
The Minnesota Vikings will finish off a short road trip against the Chicago Bears this Sunday with an eye on their first victory at Soldier Field in almost a decade. Chicago ...
October 31, 2015
As losers of four straight games, the Dallas Cowboys' season sits on the brink of an injury-induced disaster. Their current record of 2-4 puts them in position to have to ...
October 31, 2015
The New Orleans Saints will take on the New York Giants Sunday in the Mercedes-Benz Superdome in an important midseason NFC matchup. After a dismal start, coach Sean Payton's squad has reeled ...
October 31, 2015
For those who think there should be an age limit for "trick-or-treating," New England Patriots tight end Rob Gronkowski showed that age simply doesn't matter.It's all about having the Halloween ...
October 31, 2015
The New York Jets filed an inquiry with the National Football League during their Week 7 loss to the New England Patriots to determine the identity of two individuals on ...
October 31, 2015
An exciting week of NFL action could lead to unpredictability. This is a good thing for fans but a tough challenge for those picking games. Thanks to evenly matched battles throughout ...
October 31, 2015
Iffy fantasy football matchups make or break decisions each week. It's never fun to bench a notable starter, but remember when Minnesota Vikings running back Adrian Peterson had that tough matchup ...
October 31, 2015
Center Ryan Kalil has been an underrated factor in the Carolina Panthers' offensive success this season, but the 30-year-old veteran is nursing an ankle injury.Continue for updates.Kalil Doubtful for Week ...