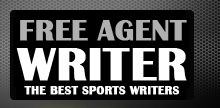 Yankee Addicts
Categories
Featured Sponsors
February 2015 Archive
February 28, 2015
Former Washington Huskies football star Marcus Peters is arguably the most talented cornerback prospect entering the 2015 NFL draft. As April 30's first round draws closer, information is surfacing with ...
February 28, 2015
Ray Rice is speaking publicly for just the second time since being suspended by the NFL, and subsequently reinstated following an appeal, and being released by the Baltimore Ravens.   In ...
February 28, 2015
The strange, ongoing saga involving the succession plan for the two New Orleans professional sports franchises (the NFL's Saints and NBA's Pelicans) owned by Tom Benson has had another layer ...
February 28, 2015
For those football fans yearning for more NFL media fodder, just sit tight a little while longer. March madness isn't just for college basketball anymore.For those enjoying the brief lull ...
February 28, 2015
Every now and then, a team goes the extra mile to make a fan happy, and we're reminded what sports fandom is all about.Case in point: Michael Monorock, a young ...
February 28, 2015
The San Francisco 49ers are reportedly deciding what to do with wide receiver Stevie Johnson, as the team debates whether they should offer the wideout a pay cut, or simply ...
February 28, 2015
Philadelphia Eagles linebacker Emmanuel Acho told Hannah Delmonte if she could get 10,000 retweets, he would be her date for prom. As it turned out, the Twitter test wasn't nearly ...
February 28, 2015
When the college football season ended, NFL draft season officially began. The whole process grows tiring the closer it gets to late April/early May. January through March is the sweet spot ...
February 28, 2015
As far as the stock department surrounding NFL mock drafts goes, let's just say things are looking up. The NFL Scouting Combine is now in the rearview mirror, meaning prospects next ...
February 28, 2015
Now that the NFL Scouting Combine is over and we are within a couple of months of the 2015 NFL draft, teams like the Green Bay Packers are really zeroing ...