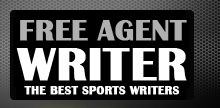 Yankee Addicts
Categories
Featured Sponsors
February 2012 Archive
February 26, 2012
The Miami Dolphins have an extremely talented team, but there remain questions at the quarterback position. Ever since Dan Marino faded off into the sunset, it has haunted this franchise ...
February 26, 2012
Offense line is one of the hardest units to judge at the NFL Scouting Combine. You really don't get a great understanding of their ability with the generic drills like ...
February 26, 2012
Now that day four of the 2012 NFL combine is officially over we can evaluate the results from Saturday in Indianapolis. We saw some players struggle, but then we saw a ...
February 26, 2012
Jason La Canfora of NFL Network reports that the Atlanta Falcons are exploring an extension with Matt Ryan this offseason. There are quite a few reasons why this makes sense. ...
February 26, 2012
Sunday is going to be the most talked about day at the NFL Scouting Combine in Indianapolis. It is the day that the top skill position players take to the ...
February 26, 2012
Despite the lockout, and less time with their respective teams, the rookies of the 2011 NFL season came into their first professional football seasons with full force.We saw numerous records, ...
February 26, 2012
40-yard dash times have become an extremely important stat for NFL teams evaluating tight ends at the 2012 NFL combine.The position is drastically evolving in the NFL, so much so ...
February 26, 2012
Saturday's workouts at the NFL combine continued to assure teams everywhere that USC offensive tackle Matt Kalil is for real and deserving of being selected anywhere from No. 2 to ...
February 26, 2012
With a lot of talented players ready to hit the free-agent market this offseason, it looks as if the Kansas City Chiefs are set on not letting their star wide ...
February 26, 2012
Jeff Saturday says Peyton Manning will "Absolutely" play football next season.It's the first sure-thing we've heard during this whole ordeal, unless Rob Lowe's tweet ends up being correct. But it's ...