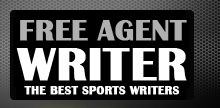 Yankee Addicts
Categories
Featured Sponsors
June 2016 Archive
June 30, 2016
In the dictionary of Big D, you won't find the word "rebuild." The Dallas Cowboys just don't do that. Last year's 4-12 season notwithstanding, the Cowboys and team owner Jerry ...
June 30, 2016
Dallas Cowboys defensive end DeMarcus Lawrence will officially be suspended for the first four games of the 2016 season after the NFL denied his appeal Thursday.   The NFL confirmed the ...
June 30, 2016
Dallas Cowboys linebacker Rolando McClain has been suspended by the NFL for another violation of the league's substance abuse policy. The NFL confirmed (via Clarence Hill of the Fort Worth Star-Telegram) that McClain will ...
June 30, 2016
It didn't take long for quarterback Connor Shaw to find a home. Field Yates of ESPN reported the Chicago Bears claimed Shaw on Friday after the New Orleans Saints put in ...
June 30, 2016
If Johnny Manziel is able to convince an NFL team he's worth taking a risk on, he will be forced to sit out the first four games of next season. Per ...
June 30, 2016
New York Jets defensive lineman Sheldon Richardson was suspended for the first game of the 2016 season Thursday for violating the NFL's personal conduct policy.  NFL Network's Ian Rapoport was the ...
June 30, 2016
On the heels of myriad off-field issues, including an alleged altercation with his ex-girlfriend, quarterback Johnny Manziel was reportedly suspended for four games by the NFL on Thursday. According to TMZ ...
June 30, 2016
The Cleveland Browns addressed the quarterback position this offseason by rolling the dice on Robert Griffin III, and a report this week suggests the 26-year-old has the inside track on ...
June 30, 2016
Nearly one year removed from a July 4 fireworks accident that resulted in a severe hand injury, New York Giants pass-rusher Jason Pierre-Paul is speaking out against the dangers of ...
June 30, 2016
Hall of Fame head coach and tight end Mike Ditka is backing Donald Trump's run for the White House, but the ESPN analyst has declined an invitation to speak at ...