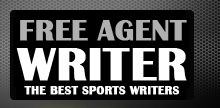 Yankee Addicts
Categories
Featured Sponsors
January 2014 Archive
January 29, 2014
It's been a wild and wonderful ride for Russell Wilson and his wife, Ashton Wilson, who now get to enjoy the unlikely and remarkable spectacle that is the NFL Super ...
January 29, 2014
Reese went to Super Bowl Media Day to talk to both the Denver Broncos and the Seattle Seahawks. The teams will face off in Super Bowl XLVIII but he didn't ...
January 29, 2014
The Dallas Cowboys have found a new defensive coordinator, promoting former defensive line coach Rod Marinelli to the position. ESPN's Todd Archer reports that Marinelli will replace Monte Kiffin, who was ...
January 29, 2014
College All-Star Games have come and gone, but for NFL hopefuls, the draft process is far from being over. As the gears change to more individual workouts and preparations for ...
January 29, 2014
Super Bowl XLVIII ticket prices have been fluctuating in recent days, and it's worth digging into the latest information available to find out what's going on. With a fantastic matchup between ...
January 29, 2014
Demaryius Thomas is preparing to take the field for the biggest game of his young, blossoming career, when the Denver Broncos take on the Seattle Seahawks for Super Bowl XLVIII. ...
January 29, 2014
Richard Sherman and many others think he's the best cornerback in the game. And they might be right.Sherman didn't give up a completion in the NFC Championship Game, and he ...
January 29, 2014
Former New York Giants superstar defensive end Michael Strahan figures to be in the Pro Football Hall of Fame at some point, but 2013 inductee Warren Sapp doesn't believe he's ...
January 29, 2014
Peyton Manning is on his way for a second Super Bowl title, a feat that is all the more stunning when you consider he might not even be here if ...
January 29, 2014
Soon after the AFC and NFC Championship games ended this year, Super Bowl XLVIII tickets hit an unprecedented mark making it the most expensive Super Bowl ever to attend. Now ...