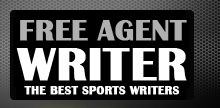 Yankee Addicts
Categories
Featured Sponsors
June 2010 Archive
June 30, 2010
Say it ain't so. I'm afraid it is. The NFL grapevine has JaMarcus Russell landing in Arizona. And everybody groans... I know, as Cardinals fans, that this is not what you ...
June 30, 2010
The NFL Pro-bowl: It is said to be the "All-Star" game for the "best of the best"/ greatest NFL athletes of that year. If this was true, ...
June 30, 2010
Today, the subject is the Cincinnati Bengals.   Biggest Strength: Cornerback The Bengals have used two first round picks in past years on their starting corner backs Johnathan Joseph and Leon ...
June 30, 2010
Raider Nation appears to be sleeping on Louis Murphy so far. Most of the talk has been about this offseason and for good reason. "Big" John Henderson, Rolando McClain, and Lamarr Houston are now in Oakland to stop ...
June 30, 2010
Last week, a reader suggested we perform a value-based statistical analysis (similar to our 2009 Player Grades ) which could be used to determine the worth of ...
June 30, 2010
Do not adjust your monitors, I actually typed the headline correctly. Such a scenario two years ago would have labeled insane, stupid, loony, and everything else in between.  However, after ...
June 30, 2010
As far as recent history goes with the Denver Broncos, two personalities are held supreme atop the list of legendary Mile Highers. Strangely enough, those two aren't really that fond of ...
June 30, 2010
The National Football League is like no other league in the country. As an entity, many have tried to copy the model of the NFL. The USFL failed miserably, as did ...
June 30, 2010
Many NFL fans, when encouraged, will immediately rank the 1985 Chicago Bears with its 18-1 record as the best team in the XLV years of the Super Bowl super era.  ...
June 30, 2010
This is the goldmine of NFL Draft scouting. The National Scouting Service pre-season senior rankings are a service that NFL teams pay $35,000 for. Here at Bleacher Report, we're giving ...