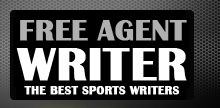 Yankee Addicts
Categories
Featured Sponsors
November 2011 Archive
November 27, 2011
When the 2012 NFL season kicks off, Peyton Manning will be 36 years old.The question that the Indianapolis Colts must ask themselves—how many more years, from the minute that opening ...
November 27, 2011
There are plenty of landmines afoot in the world of fantasy football heading into Week 12 of the 2011 NFL season. Make sure you steer clear of these three guys, ...
November 27, 2011
While the red in Kansas City is symbolic of their current bleeding, the play of the Pittsburgh Steelers has transitioned from the blackness of early season to a gold standard ...
November 27, 2011
The running back position has become a very interesting one in the NFL. While a great running back can buoy an offense, many of the league's better running backs are ...
November 27, 2011
Injuries have a "funny" way of disrupting playoff pushes in the NFL, especially when franchise quarterbacks get cut down. There's no easy way for a team to replace its top ...
November 27, 2011
The AFC West may be the weakest division in all of football, but it also currently boasts the tightest playoff race in all of the NFL.Right now the Oakland Raiders ...
November 27, 2011
When you think of quarterbacks who can run the ball, chances are three names come to mind: Michael Vick, Tim Tebow and Vince Young. It just so happens that both ...
November 27, 2011
In today's high-scoring NFL, it stands to reason that betting the over is the best way to go. While that is often true, there is a reason why Las Vegas ...
November 27, 2011
We're getting down to the wire now in fantasy football and one start 'em, sit 'em decision can be the difference between you going on to win your entire fantasy ...
November 27, 2011
Someone told me that a president of a company asked that his priest visit his corporation and speak a few words over the territory.That sounded good, until the rest of ...