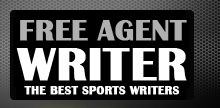 Yankee Addicts
Categories
Featured Sponsors
April 2013 Archive
April 30, 2013
The 2013 NFL Draft is complete, with all selections made and being analyzed by teams and fans right across the globe. And like every year, some picks seemed to make ...
April 30, 2013
In the 2013 draft, the Cleveland Browns made one thing perfectly clear: They're planning for the future.The hints haven't been subtle. Owner Jimmy Haslam hasn't been shy about letting people ...
April 30, 2013
For whatever reason, the wide-receiver position seems to have an inordinate percentage of headcases, whether it's players who are constantly griping on the field or getting into trouble off of ...
April 30, 2013
It's a popular belief that the Tennessee Titans had a strong 2013 draft, with Chance Warmack being their coveted first-round selection.The other seven draft picks were all considered solid picks ...
April 30, 2013
Four years after aggressively moving into the top five to select Mark Sanchez, the New York Jets begun their quarterback evolution when West Virginia's Geno Smith fell into their laps ...
April 30, 2013
Pass-rushers and tackling machines are the annual front-runners for the NFL's Defensive Rookie of the Year award. Charles Woodson is the last cornerback to win the award, and he received that ...
April 30, 2013
If 2012 was the year of the quarterback in the NFL draft, then 2013 certainly was not.Three quarterbacks were selected in the top 10 in 2012, but last week only ...
April 30, 2013
On the heels of a year in which Atlanta hosted the SEC championship game, the NFC Championship Game and the 2013 NCAA Final Four, officials are doing everything in their ...
April 30, 2013
The defending Super Bowl champion Baltimore Ravens and the runner-up San Francisco 49ers may have picked late in the 2013 NFL draft, but they reloaded and chose as well as ...
April 30, 2013
Justin Blackmon has received a four-game suspension (as per Adam Schefter), meaning Jacksonville is without its wide receiver in the Jaguars' opening games against Kansas City, at Oakland, at Seattle ...