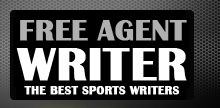 Yankee Addicts
Categories
Featured Sponsors
March 2013 Archive
March 31, 2013
As the calendar turns to April, we enter the stretch run of NFL draft season. Grades on most prospects have been set for weeks, but a few prospects are still generating ...
March 31, 2013
It wasn't a surprise when the Arizona Cardinals cut Kevin Kolb on March 15 rather than pay him a $2 million roster bonus. New coach, new general manager, new system. ...
March 31, 2013
In 2013, St. Louis Rams running back Steven Jackson produced 1,363 yards from scrimmage, which counted for 25.8 percent of the team's total offensive yards (5,264). The next highest on the ...
March 31, 2013
Christian Ponder and the Minnesota Vikings finished the 2012 season ranked 31st in passing with a meager 171.9 yards-per-game average. Only the Kansas City Chiefs finished worse, with 169.6 yards.One ...
March 31, 2013
The Buffalo Bills have reportedly finalized a two-year contract to acquire former Arizona Cardinals quarterback Kevin Kolb.ESPN's Adam Schefter initially broke news of the development on Saturday:UPDATE: Saturday, March 30 ...
March 31, 2013
Following a productive career at Oregon State, wide receiver Markus Wheaton seized opportunities to impress evaluators once the regular season ended. Despite impressing onlookers at the Senior Bowl and NFL ...
March 30, 2013
When it comes to Terrell Owens, the common misperception has been that he's a bad teammate.The aforementioned—unsubstantiated, force-fed rhetoric that the media has crafted, packaged and shipped to the minds ...
March 30, 2013
The 2013 NFL draft doesn't feature a single quarterback that scouts can declare a slam dunk. Unlike the 2012 class that featured the likes of Andrew Luck and Robert Griffin ...
March 30, 2013
As a lifelong Chicagoan, I have been able to appreciate Brian Urlacher's entire career with the Chicago Bears, but his time as a difference-making middle linebacker is over.Per Bovada.lv, Las ...
March 30, 2013
Atlanta Falcons fans should mark a certain upcoming Summer day on their calendars, especially if they have youngsters. On June 1, Strikes 4 Kids will partner with the Atlanta Falcons to ...