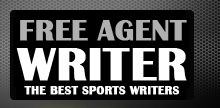 Yankee Addicts
Categories
Featured Sponsors
November 2012 Archive
November 30, 2012
Sidelined since the second quarter of Oakland's Week 9 loss to the Tampa Bay Buccaneers with a leg injury, it looks like dynamic running back Darren McFadden will be back ...
November 30, 2012
There appears to be an official date for Baltimore Ravens linebacker Ray Lewis' return to action. According to ESPN, who spoke with a Ravens team source, Lewis should be back ...
November 30, 2012
Thursday, November 29 was the night the tumultuous New Orleans Saints' 2012 football season finally declared itself finished. With each Drew Brees interception (there were five of them), it became ...
November 30, 2012
After tearing his triceps earlier in the year, Ray Lewis will return to the Baltimore Ravens before the end of the regular season. He is eligible to be activated on Dec. ...
November 30, 2012
NFL Week 13 features seven intra-divisional matchups as the regular season enters the final phase. That should make for some excellent TV-watching for all us fans out there. But Sunday's ...
November 30, 2012
The Oakland Raiders will not cut Rolando McClain, but Jay Glazer of Fox Sports reports that the team will instead suspend the linebacker.UPDATE: Friday, November 30 at 11:32 p.m. ETThe Raiders ...
November 30, 2012
The Atlanta Falcons have the best record in the NFL, yet after their 23-13 win over the rival New Orleans Saints on Thursday night, many are wondering if they truly ...
November 30, 2012
Week 13 of Fantasy Football is the last opportunity to make a run at the postseason—in most leagues.Therefore, finding those favorable matchups that are going unnoticed will result in providing ...
November 30, 2012
At the beginning of the year, Matt Ryan was doing a Drew Brees impersonation.Through his first five games, Matty Ice had 13 touchdowns and three interceptions. He threw multiple touchdown ...
November 30, 2012
The past doesn't lie, and few teams and fan bases in sports know that better than the Steelers and their fans.Using the past as a portal to future predictions, fans ...