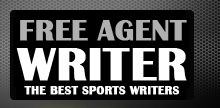 Yankee Addicts
Categories
Featured Sponsors
August 2015 Archive
August 31, 2015
The Deflategate saga between New England Patriots quarterback Tom Brady and the NFL continued Monday, with the NFL Players Association and the league failing to reach a settlement.   The judge ...
August 31, 2015
Healthy or not, Robert Griffin III will not be Washington's starting quarterback Week 1. The team's coaching staff has informed Griffin that Kirk Cousins will be under center for the ...
August 31, 2015
Seattle Seahawks star cornerback Richard Sherman has been so impressed by wide receiver Tyler Lockett that he recently sought out a fun video game mashup in honor of his rookie teammate. In the ...
August 31, 2015
NFL teams have already begun trimming rosters in preparation for the regular season. While notable names such as Tim Jennings have already been cut loose by the Chicago Bears, per ...
August 31, 2015
Josh Scobee's 11-year run with the Jacksonville Jaguars is over. The team agreed Monday to send its longtime kicker to the Pittsburgh Steelers in exchange for a late-round pick.   Ian ...
August 31, 2015
The end of preseason Week 3, the exhibition some say matters because teams play starters for almost a full half, means one thing. It's time for more power rankings. Fans shouldn't lose ...
August 31, 2015
After eight seasons with the Buffalo Bills, running back Fred Jackson was cut from the team Monday, according to Vic Carucci of the Buffalo News. General manager Doug Whaley offered the following statement, ...
August 31, 2015
In a league conducive to fast turnarounds and unpredictable results, several perennial NFL powerhouses have provided stability on top of the league's hierarchy. Few certainties exist in sports, but the NFL's ...
August 31, 2015
The Tampa Bay Buccaneers confirmed that they have traded tight end Tim Wright for the second time in the past two years, dealing him to the Detroit Lions in exchange for ...
August 31, 2015
The Indianapolis Colts finished their final "meaningful" preseason game this past weekend with a victory, defeating the St. Louis Rams 24-14 to snap a seven-game preseason losing streak. After getting thoroughly ...