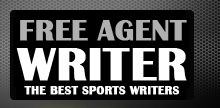 Yankee Addicts
Categories
Featured Sponsors
July 2015 Archive
July 19, 2015
"M-V-P! M-V-P! M-V-P!"That's what Green Bay fans chanted at Brett Favre's Packers Hall of Fame Ceremony.The legendary quarterback had stints with the New York Jets and the rival Minnesota Vikings, ...
July 18, 2015
Houston Texans running back Arian Foster came through with an act of kindness for a fan who asked for his help.   On Friday, a Texans fan reached out to Foster ...
July 18, 2015
We're in the dead period before the NFL starts back up with training camp over the summer. When teams get back into the swing of things, there will be injuries ...
July 18, 2015
Social media can be fun to use, but it can also lead to huge problems. No matter the intent, one click of the button can turn someone's world upside down.Houston Texans ...
July 18, 2015
One of the footballs used during the AFC Championship Game between the New England Patriots and Indianapolis Colts sold at auction Saturday. According to ESPN.com's Darren Rovell, auction house Lelands.com sold ...
July 18, 2015
No team ended the 2014-15 NFL season with a higher stock than the New England Patriots, who defeated the Seattle Seahawks to win Super Bowl XLIX. Going into the start ...
July 18, 2015
As much as we might try, it's hard to find much to complain about when it comes to the New England Patriots offense.  The Patriots have finished as a top-five ...
July 18, 2015
Welcome to Football Econ 101. Today, we're talking about the free market. A player hitting the open market usually means a huge payday. With revenues always increasing and the salary cap going ...
July 18, 2015
The Oakland Raiders are in the midst of one of the most exciting periods in the team's recent history. Hopes are high, but that's true every offseason. The difference is ...
July 18, 2015
If we're generous, maybe 10 quarterbacks can play the position at a premier level, and every year the rigid divide in talent among the rest is peppered with uncertainty. At the ...