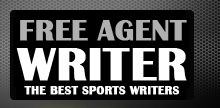 Yankee Addicts
Categories
Featured Sponsors
April 2016 Archive
April 30, 2016
If Marshawn Lynch's NFL career is really over, the star running back is taking his time with making it official.  Per Bob Condotta of the Seattle Times, the Seattle Seahawks said Lynch ...
April 30, 2016
NFL teams won't stop looking for ways to improve just because the 2016 NFL draft is over. Plenty of general managers are working the phones Saturday night to sign players ...
April 30, 2016
After three days and 253 picks, the 2016 NFL draft is done. Months of speculation and mock drafts gave way to the real thing in Chicago. It started off just like ...
April 30, 2016
Perhaps trying to play mind games with the New England Patriots, the Buffalo Bills signed fullback Glenn Gronkowski as an undrafted free agent Saturday. Jerry Sullivan of the Buffalo News reported the ...
April 30, 2016
Quarterback Brian Hoyer has found a new team, as the Chicago Bears announced they've reached a one-year deal with the veteran quarterback. Ian Rapoport of NFL Network noted the deal ...
April 30, 2016
Southern Mississippi Golden Eagles cornerback Kalan Reed received the honor of being named Mr. Irrelevant as the last player selected in the seventh round of the 2016 NFL draft. The Tennessee Titans ...
April 30, 2016
Cardale Jones has a big frame, a big arm, a big brain, a big mouth and a big, fat College Football Playoff National Championship ring. That combination of traits alone ...
April 30, 2016
Following three days of intensive research and deliberation by all 32 NFL teams, draft season is officially over.  However, the evaluation process is just starting. And in that spirit, it's time ...
April 30, 2016
One of the great stories of the NFL draft happened on Saturday, with the Baltimore Ravens taking former Navy Midshipmen quarterback Keenan Reynolds in the sixth round.    Reynolds, the FBS ...
April 30, 2016
Dallas Cowboys owner Jerry Jones has long been known for the twinkle in his eye at the mere thought of making a draft splash. He's the guy at your Fourth ...