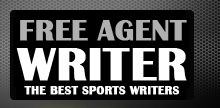 Yankee Addicts
Categories
Featured Sponsors
May 2013 Archive
May 31, 2013
Organized team activities are underway across the National Football League, as rookie and veterans alike gather for the first time together to begin preparations for the 2013 season.For some teams ...
May 31, 2013
Washington Redskins quarterback Robert Griffin III has decided to officially call the Washington, D.C. suburbs home after purchasing a $2.5 million home in the outlying suburbs in Virginia, according to ...
May 31, 2013
It took a season-ending injury to Melvin Ingram for free agent Dwight Freeney to find a job. The San Diego Chargers snapped up the 33-year-old sack artist to supplement their ...
May 31, 2013
Change has occurred all over Buffalo since the 2012 season came to a close. From a new coaching staff to a new quarterback, this team will be a vastly different ...
May 31, 2013
As a former No.1 overall pick who was selected to be the face of a franchise at the beginning stages of the unenviable rebuilding process, Cam Newton should be one ...
May 31, 2013
So, we have established there is indeed an "N" in the cornerback's first name. NFL.com brings its own special brand of the Spelling Bee to the San Francisco 49ers' locker room ...
May 31, 2013
The St. Louis Rams will reportedly be without running back Isaiah Pead for the first game of the 2013 season. According to NFL Network's Ian Rapoport, Pead has been suspended for ...
May 31, 2013
Recently, Titus Young has become the subject of headlines and punchlines after being arrested three times in one week. It turns out that the former NFL wide receiver was offered ...
May 31, 2013
If there was a prevailing theme in the 2013 offseason, it's that the rich got richer. For the Atlanta Falcons, that meant adding a running back whose versatility makes an ...
May 31, 2013
Tim Tebow has cleared waivers this offseason and remains on the NFL free-agent market. The reality of the situation has led members of Tebow's camp to suggest that his NFL ...