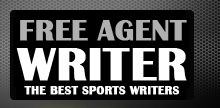 Yankee Addicts
Categories
Featured Sponsors
October 2013 Archive
October 30, 2013
It was one of the most thrilling victories in Detroit Lions history. When Matthew Stafford unexpectedly launched himself across the goal line to score the go-ahead touchdown, Lions fans across ...
October 30, 2013
Every Batman needs a Robin. New Orleans Saints inside linebacker Curtis Lofton is the unquestioned leader of the Saints defense (unless you ask fellow linebacker Jonathan Vilma). His tenaciousness, productivity and savvy ...
October 30, 2013
As ugly as last week's loss was, the New York Jets have a lot of reason to be excited about the future.  Dee Milliner is not one of those reasons.  The Jets' ...
October 30, 2013
Amid the many disappointments this season for the Minnesota Vikings, there has been at least one bright spot—rookie Cordarrelle Patterson. Fairly or not, Patterson will always be compared to Percy Harvin. ...
October 30, 2013
The Cincinnati Bengals finally placed cornerback Leon Hall on season-ending injured reserve on Tuesday after tearing his Achilles tendon against the Detroit Lions, according to Coley Harvey of ESPN.com. This ...
October 30, 2013
The injury list had a big influence on determining the sleepers for Week 9.  For example, with Bucs' wide receiver Mike Williams down and Mike Glennon throwing the ball 50 times ...
October 30, 2013
Sidney Rice is out for the year with an ACL injury, as Michael David Smith of Pro Football Talk reported. Are the Seattle Seahawks going to be able to keep ...
October 30, 2013
Week 9 of the 2013 NFL season presents perhaps an unprecedented breeding ground for upsets. Games in this league are unpredictable as it is, but the upcoming schedule features a lot ...
October 30, 2013
Ever since head coach Pete Carroll and general manager John Schneider took over in the Pacific Northwest, they have introduced new-found belief systems and philosophies. Long gone are the days ...
October 30, 2013
If you haven't quite heard yet, it's because you haven't been listening. The Indianapolis Colts have quietly become the new "America's Team." Even if you don't quite know it yet. Following ...