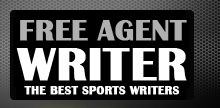 Yankee Addicts
Categories
Featured Sponsors
April 2011 Archive
April 30, 2011
 The Denver Broncos entered this year's draft with a lot of media attention. The questions surrounding the team revolved around who would be the No. 2 overall pick, what trade ...
April 30, 2011
A highly disappointing 7-9 season left the Miami Dolphins in a bit of a tailspin. After splurging on high-priced free agents to bolster a roster led by an emerging Chad ...
April 30, 2011
Do you remember when you were younger and the kids in your neighborhood got together to play a game of football? There were two captains, and whoever picked the right number ...
April 30, 2011
The 2011 NFL Draft is finally in the books. Four months of tireless, recycled speculation and rumors have finally been put to rest, only to spawn a whole new wave ...
April 30, 2011
With their final pick in the 2011 NFL Draft, the Eagles added to their backfield by taking USC fullback Stanley Havili.Although he's listed as a fullback, Havili is considered more ...
April 30, 2011
The Carolina Panthers opened the fourth round of the 2011 NFL draft by adding a fast, athletic corner to their roster.West Virginia defensive back Brandon Hogan graded better than a ...
April 30, 2011
Whether it's LeGarrette Blount, Arian Foster, or the host of other undrafted free agents that have been successful in the NFL. So, now that the drafts over, there is still ...
April 30, 2011
The Detroit Lions rounded up their final 2011 draft picks with OLB Doug Hogue and OT/G Johnny Culbreath. With these picks, we now have addressed the need at OLB and ...
April 30, 2011
The draft has come and gone and it was an exciting three days for all NFL teams.Some teams had very solid drafts that will pay huge dividends in the new ...
April 30, 2011
DeMarco Sampson was the top receiver on the surprising San Diego State squad that earned a bowl berth in 2010—and the success turned out to be Brady Hoke's ticket back ...