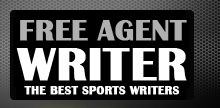 Yankee Addicts
Categories
Featured Sponsors
November 2015 Archive
November 30, 2015
At multiple points in Sunday's 30-24 overtime loss to the Denver Broncos, Tom Brady appeared visibly upset with the officiating. Given time to reflect, Brady did not appear any happier ...
November 30, 2015
The New England Patriots expect star tight end Rob Gronkowski to be back very soon despite a scary knee injury on Sunday Night Football.Can he make it back in time ...
November 30, 2015
It's tough to get much out of New England Patriots head coach Bill Belichick after his team wins a game. It's even tougher to do so after a loss.New England blew ...
November 30, 2015
Pro Bowl defensive back Cortland Finnegan retired in March, but he promptly decided in August, as training camps were wrapping up, that he wanted to make an NFL comeback.  The undefeated Carolina ...
November 30, 2015
Another NFL week is almost in the books, but the playoff picture isn't any clearer.  In the AFC, three teams have separated from the pack but are trailed by seven others ...
November 30, 2015
Not happy with a recent report, Miami Dolphins star Ndamukong Suh took to Instagram to throw some serious shade at NFL Media's Ian Rapoport.On Sunday, Rapoport reported (via NFL.com's Kevin ...
November 30, 2015
This past weekend provided the best examples to date of what waiver-wire adds can do, as the fantasy football schedule transitions to Week 13. Kansas City Chiefs running back Spencer Ware ...
November 30, 2015
After beating Tom Brady's New England Patriots on the field on Sunday Night Football, the Denver Broncos made sure to respond to the Patriots quarterback's pregame trolling with a little of ...
November 30, 2015
The Miami Dolphins coaching staff purge continued Monday, as the team fired offensive coordinator Bill Lazor a day after a 38-20 loss to the New York Jets. Quarterbacks coach Zac Taylor ...
November 30, 2015
This is the time where fantasy football championships need to be won. Every waiver-wire addition makes the difference between winning a league and falling flat down the stretch. That statement rings ...