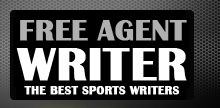 Yankee Addicts
Categories
Featured Sponsors
January 2016 Archive
January 31, 2016
Warning: Video may contain NSFW language.Not everyone is able to get away with crashing a live interview, but these days, Carolina Panthers quarterback Cam Newton has all the leeway in ...
January 31, 2016
Denver Broncos left tackle Ryan Clady, who missed the entire 2015 season with a torn ACL in his left knee, is looking to extend his stay in the Mile High ...
January 31, 2016
The Detroit Lions have added Randy Edsall to Jim Caldwell's staff as the director of football research and special projects, according to Adam Schefter of ESPN. Michael David Smith of Pro Football Talk ...
January 31, 2016
Ask discerning football fans who had the most impactful NFL career between Terrell Owens, Torry Holt and Isaac Bruce, and Owens would win in a romp. Former Los Angeles Rams coach ...
January 31, 2016
We might have the Pro Bowl to get through first, but in exactly one week, the Carolina Panthers will take on the Denver Broncos in what is primed to be ...
January 31, 2016
The 2016 NFL draft is about to take center stage after the small matter of Super Bowl 50 is decided.  We're less than two months away from the top college prospects ...
January 31, 2016
Sunday's Pro Bowl stands as a showcase for the future of the league. With Peyton Manning and Cam Newton headed to the Super Bowl and many veterans willing to take a ...
January 31, 2016
When it comes to having a compelling history of head-to-head matchups, the Carolina Panthers and the Denver Broncos rank near the bottom of the NFL. While it is fairly noteworthy that ...
January 31, 2016
The first major step of the 2016 NFL draft process is complete after the South upended the North in Saturday's Senior Bowl. There, Mississippi State quarterback Dak Prescott took home the ...
January 31, 2016
Peyton Manning, Cam Newton and Carson Palmer might have been all have been the top overall picks in their respective NFL draft classes, but sometimes the elite slip through the ...