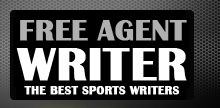 Yankee Addicts
Categories
Featured Sponsors
May 2012 Archive
May 30, 2012
Whether due to personality issues on or off the field, lack of production despite high hopes or a player dueling with management, there are a handful of frustrating players on ...
May 30, 2012
Introduction All teams in all sports have had their share of freaky players names throughout history, and in researching my last three Steelers stories, I came across some pretty cool ...
May 30, 2012
Every year teams sign a group of undrafted free agents and every year some of those undrafted free agents stand out in training camp and make the final roster. Some ...
May 30, 2012
With the division boasting three playoff teams in 2011, there's high expectations for the AFC North quarterbacks to continue the trend. Let's see how the quarterbacks graded out against each ...
May 30, 2012
The Seattle Seahawks have a long-standing tradition of recognizing the role the 12th Man plays with the team. One item that has accompanied the history since Pete Carroll took over ...
May 30, 2012
Quick Review of 2011 Offense—No. 23 rushing, No. 30 passing, No. 31 total. Defense—No. 31 rushing, No. 7 passing, No. 22 total. After coming close to a division title in ...
May 30, 2012
It looks like Donald Driver is staying with the Green Bay Packers. While nothing is official as of late Tuesday night, all signs point to the three-time Pro Bowler re-signing ...
May 30, 2012
Think you know everything there is to know about football? NFL fans can be a very knowledgeable group. From knowing history and trivia to knowing statistics and trends, many NFL ...
May 30, 2012
While some teams in the AFC East such as the Buffalo Bills have vastly upgraded their roster this offseason, the New England Patriots are still the best team in the ...
May 30, 2012
When Adrian Peterson went down back on December 24th, I had a bad feeling we might not see him in cleats again. It was the type of injury which looked ...