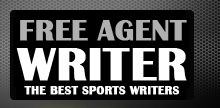 Yankee Addicts
Categories
Featured Sponsors
February 2010 Archive
February 28, 2010
The Cleveland Browns brass have been very busy at the NFL Scouting Combine in Indianapolis the past several days and here is a list of offensive players they have met ...
February 28, 2010
For fans of the Cleveland Browns, recent years have often been filled with failure and disappointment. With few bright spots and even fewer wins since the Browns' reintroduction to the ...
February 28, 2010
Sunday was Day Five of the combine but technically it's the "Day 2 Arrivals" who were--or not--participating in the drills and workouts. It was the quarterbacks, running backs and wide receivers ...
February 28, 2010
  According to Adam Schefter, of ESPN, former top-10 draft pick from Miami University, Antrel Rolle, will be released sometime this week. Rolle is due to earn a $4 million ...
February 28, 2010
After what may be the best "fan" day for the Combine, there were many, many guys who moved up and down both my board and probably scouts' boards. We'll take a ...
February 28, 2010
While sitting here at the NFL Scouting Combine can be a long and arduous process, it allows a writer to get more out of a beat reporter than what he ...
February 28, 2010
Here at B/R we are lucky enough to have a community of fans who take pride in their teams and the players they draft. With all the mock drafts that are ...
February 28, 2010
(Port Allen, Louisiana) Port Allen, La. sits in on the West Bank of the Missisippi River directly across from Baton Rouge and in the shadows of LSU Tiger Stadium where National ...
February 28, 2010
Sunday brought the most exciting players to Indianapolis—quarterbacks, wide receivers, and running backs—and they did not disappoint. The 2010 NFL Draft class may not be the most star studded in offensive ...
February 28, 2010
The running backs are finishing up at the NFL Scouting Combine and there are several names that have impressed, but a few that have been a let down too. Two of ...