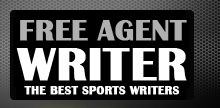 Yankee Addicts
Categories
Featured Sponsors
March 2011 Archive
March 31, 2011
NFL teams are allowed to schedule 30 player workouts during the draft process. The Eagles have already scheduled 14 players to workout at the NovaCare Complex. Here is a quick look at ...
March 31, 2011
St. Louis Rams 2011 NFL Draft hub—News, rumors, and speculation. The St. Louis Rams experienced an enormous revival in 2010, winning more games in one season then they had in the ...
March 31, 2011
In less than a month, all of the 2011 NFL Draft chatter will be silenced by...the draft itself. Imagine that? Coming off a NFC South championship and a NFC Divisional ...
March 31, 2011
We've all heard who are the early round prospects and the players that are expected to go in the first and second rounds, but do you know of any potential ...
March 31, 2011
The one word that draws the ire of New England Patriots fans around NFL Draft time is the one word that has led to the continued success of the team: ...
March 31, 2011
Can Green Bay Packers GM Ted Thompson Find the Next Small School Gem in the 2011 NFL Draft?As we've seen over the six years that Ted Thompson has controlled the ...
March 31, 2011
This is the third article in my 32 part Draft Take series leading up to the NFL Draft. The Jets made it all the way to the AFC Championship game ...
March 31, 2011
Reports are pouring in from Seattle-based sources about Washington Husky QB, Jake Locker's, pro day performance yesterday.  According to Gil Brandt, a reporter for NFL.com, Locker displayed solid execution before an ...
March 31, 2011
It's time for the third installment of the "Square Peg Brigade" series. The point of the article is to visit those players added to the Lions roster in 2010 via ...
March 31, 2011
Few NFL teams disappointed in 2010 more than the Cincinnati Bengals. After winning two of their first three, they went on to lose ten straight, falling to 2-11. Major changes will ...