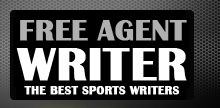 Yankee Addicts
Categories
Featured Sponsors
July 2012 Archive
July 31, 2012
San Diego Chargers running back Ryan Mathews was involved in a two-vehicle collision Monday night, and while the injuries he sustained were described as "minor," it was enough to keep him ...
July 31, 2012
Before the 2011 season began, everyone was worried about the departures of Steve Smith and Kevin Boss as free agents.Remember when everyone wanted to get on Jerry Reese's case for ...
July 31, 2012
Training camp has officially started for the Tennessee Titans, which means it's time for players to really start digging in deep in preparation for the regular season. Now is the time ...
July 31, 2012
Training camp at Lehigh University is now in full gear for the Philadelphia Eagles. The pads have come on, and we are starting to see some of the players separating ...
July 31, 2012
It wouldn't be training camp without some heavy predicting, and the latest topic of discussion is the New England Patriots' running back group. With the departure of BenJarvus Green-Ellis, the ...
July 31, 2012
In the back of his mind, Tom Coughlin had to know that there was a possibility of Terrell Thomas re-injuring his surgically repaired ACL, and that's exactly what happened during ...
July 31, 2012
The sore subject of Peyton Manning's infamous, surgically-repaired neck has been and continues to be a source of banter and fodder for the NFL world. John Elway gets paid ...
July 31, 2012
When it comes to predicting breakout players for the Atlanta Falcons in 2012, a number of names come up first: Julio Jones, Ray Edwards and Jacquizz Rodgers.But these are the ...
July 31, 2012
Head coaches are always in the spotlight—whether it's for good or bad reasons. If the team is doing well, the head coach gets all the praise. If the team does ...
July 31, 2012
Though the NFL season hasn't even begun, it's time for my first crack at a 2013 mock draft.A good amount of quarterbacks figure to be high picks, so I tried ...