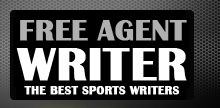 Yankee Addicts
Categories
Featured Sponsors
May 2015 Archive
May 31, 2015
Washington selected a running back from Florida in the third round of the 2015 NFL draft. That spells trouble for fantasy owners who plan on using an early pick on ...
May 30, 2015
Let's be honest with each other: You miss the NFL. That's why, even though this is only news about OTAs, you are paying attention to it. If the NFL draft is ...
May 30, 2015
Wide receiver Brandon Marshall has a new team this season, as he will play for the New York Jets, and he now has a new contract to go along with ...
May 30, 2015
At the intersection of talent and opportunity, top NFL draft prospects are usually found. College football's top teams simply reload once their top players leave to pursue dreams of playing in ...
May 30, 2015
In 2014, the Kansas City Chiefs passing game was many things. Good was not one of them. The team ranked 29th in the NFL in passing yardage. Twenty-seventh in passing touchdowns. ...
May 30, 2015
When you're looking at a player coming off a major injury in the NFL, there are a variety of factors you have to consider to determine whether he'll be able ...
May 30, 2015
Drafting a running back in the first round has become taboo in recent years, but that shouldn't affect Ezekiel Elliott in the 2016 NFL draft. Todd Gurley and Melvin Gordon ...
May 30, 2015
The Denver Broncos have concluded the first round of organized team activities and have earned a break for the weekend, before they pick back up on Monday. Though it's the first ...
May 30, 2015
As slow as it may be, the discourse surrounding the New England Patriots will eventually turn to on-field activities.  With OTAs commencing this past week, there's finally an opportunity to ...
May 30, 2015
Leah Still, the daughter of Cincinnati Bengals defensive tackle Devon Still, encountered a recent complication from stem cell treatment. The Bengals defender shared the news via his Instagram account: WLWT.com noted that ...