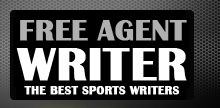 Yankee Addicts
Categories
Featured Sponsors
January 2010 Archive
January 10, 2010
The road to the Super Bowl for the Baltimore Ravens began in Foxboro, to take on a Patriots team that has never lost at home in a playoff game during ...
January 10, 2010
I must agree with the analytical sentiments of a writer on sports-reference.com who determined that Tim Brown had the most consistent Hall of Fame credentials between him, Cris Carter, and ...
January 10, 2010
Two near constants in late postseason play this decade, the New England Patriots and Philadelphia Eagles, lost dramatically in the first round to close out their seasons. The pair of mainstays ...
January 10, 2010
What is it about the Eagles and their speedy young wideouts that makes them chirping buffoons? Is there something in the chemically enhanced beef they use in the cheese steaks? Last week we had ...
January 10, 2010
Denver's offensive line coach Rick Dennison is set to interview for the Texans' offensive coordinator position Monday. If hired, he would be replacing Kyle Shanahan, who left for Washington earlier ...
January 10, 2010
The second round of the AFC playoffs are now set. Midseason monster Cincinnati Bengals and perennial powerhouse New England Patriots have both been upset by their wild-card opponents. The fifth-seeded ...
January 10, 2010
It was quite a surprise when the Seattle Seahawks fired Jim Mora after one season as head coach. Soon thereafter, stories emerged that USC's Pete Carroll would become the next ...
January 10, 2010
One of the things I look at before watching a game, is who will be doing the play-by-play and commentary. Most of the time, things are pretty well done and ...
January 10, 2010
ESPN's Adam Schefter reported today that, as far back as last month, the Panthers organization gave Coach John Fox the option to void the last year on his contract. However, ...
January 10, 2010
With Peyton Manning winning his record-setting fourth MVP in a season where it seemed like he or the Colts set a record in every game they played, it's becoming harder ...