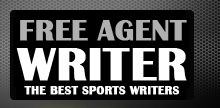 Yankee Addicts
Categories
Featured Sponsors
October 2014 Archive
October 29, 2014
Despite their 5-2 record and the fourth-highest scoring offense in the National Football League, it hasn't exactly been a smooth ride for the Philadelphia Eagles this season. In particular, quarterback ...
October 29, 2014
Fantasy owners had to be patient on Jimmy Graham amid the New Orleans Saints' slow start to the 2014 NFL season and the star tight end's own injury issues. Frankly, Graham ...
October 29, 2014
Still catching your breath from that astonishing showing last week? You're not alone. Truth is, it's hard to look forward to next week after being on the receiving end of ...
October 29, 2014
The New York Jets' season is all but over, but they still have jobs, paying fans and pride to play for—which is why veteran Michael Vick will resume duties as ...
October 29, 2014
Maybe Charles Sims is the man to help lift up what's been one of the worst running games in the NFL. If you're hoping for a boost to your fantasy ...
October 29, 2014
At 3-3, the Pittsburgh Steelers appeared to be on the verge of another season of mediocrity. Two weeks and two wins later and the mood has taken a dramatic shift ...
October 29, 2014
A little rain fell on the Detroit Lions in the middle of their incredible rally to stun the Atlanta Falcons in London. Defensive tackle Nick Fairley went down with a ...
October 29, 2014
In Week 9, the Jacksonville Jaguars will travel to Cincinnati to take on the Bengals at Paul Brown Stadium. The Bengals feature a dynamic offense with playmakers up and down their ...
October 29, 2014
The St. Louis Rams (2-5) will hit the road to take on the San Francisco 49ers (4-3), and the Rams will need a creative game plan to come out on ...
October 29, 2014
Zach Mettenberger's first start for the Tennessee Titans didn't exactly go as planned in terms of the final outcome, but a closer look at his performance shows plenty of reasons ...