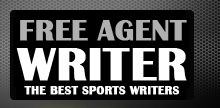 Yankee Addicts
Categories
Featured Sponsors
January 2012 Archive
January 29, 2012
Throughout history, there have been many exciting Super Bowls that have come down to the line, much to the dismay of the losers, but to the joy of the winners.Whether ...
January 29, 2012
Media Day during Super Bowl Week has been degrading into more and more of a free-for-all every year as anyone with a pen and the ability to write seems to ...
January 29, 2012
OK, here is what we all know as of now (just in case you have been living under a rock).Ben Roethlisberger stated that it would be a mistake for ...
January 29, 2012
Every NFL season has its story lines, and often times, they center around rookie players who are making an impact on their team.All too often, those players see their season ...
January 29, 2012
With Nike replacing Reebok as the NFL's primary equipment provider next season, the fans of the league expect to see changes coming to the look of their teams like the ...
January 29, 2012
"I, Peyton Manning. Take you, Indianapolis Colts. To be my team for all eternity. To have an to hold from this day forward, For richer or poorer (that never happens). ...
January 29, 2012
It's 3rd down, five yards to go. The Super Bowl's on the line. Eli Manning drops back, dodges a defender, steps up in the pocket, and throws the ball deep.The ball ...
January 29, 2012
The 2010 NFL Draft is not far behind us, yet many first-round picks are already great players for their teams. Sam Bradford, Ndamukong Suh, Russell Okung, Eric Berry, Ryan Matthews, ...
January 29, 2012
Several of college football's finest upperclassmen boosted their NFL draft stock with strong performances in the 2012 Senior Bowl.Just like the American Civil War, the North defeated the South, this ...
January 29, 2012
Brandon Boykin is just one of the hidden gems that is down in Mobile, Alabama for Senior Bowl 2012.  NFL scouts, coaches, GM's and other decision-making personnel have been in ...