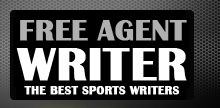 Yankee Addicts
Categories
Featured Sponsors
November 2013 Archive
November 30, 2013
Denver Broncos defensive end Derek Wolfe will not travel with the team to Kansas City in Week 13 after suffering seizure-like symptoms on Friday. Ian Rapoport and NFL Network broke the ...
November 30, 2013
The Denver Broncos (9-2) pay a visit to Arrowhead Stadium to face the Kansas City Chiefs (9-2) for AFC West supremacy. Both of the AFC's top two teams are coming off ...
November 30, 2013
Seattle Seahawks wide receiver Percy Harvin's status is once again uncertain.  Harvin will visit doctors after being listed on the injury report all week, but NFL Network's Ian Rapoport reports his ...
November 30, 2013
Every NFL matchup has a favorite, but some are much more deserving than others. Injuries and parity have challenged oddsmakers like never before this season, and several of Week 13's head-scratching ...
November 30, 2013
Although teams usually seem to separate themselves from the pack as the NFL season progresses, that hasn't been the case this year. Since there are so few dominant teams in ...
November 30, 2013
There are a few teams around the NFL that are in must-win situations in Week 13, and for one reason or another, a loss would essentially end their playoffs hopes. Luckily ...
November 30, 2013
The New Orleans Saints will collide with the Seattle Seahawks in a high-stakes showdown on Monday night, and quarterback Drew Brees and the Saints will be looking to shred the ...
November 30, 2013
As the end of the NFL's regular season draws closer with each passing week, the games get that much more important. There are a number of contests with major playoff ...
November 30, 2013
The surging New England Patriots will be heavy favorites when they take on the reeling Houston Texans in Week 13.  Thankfully, fantasy football implications will add some much-needed intrigue to this ...
November 30, 2013
At 6-5, the Eagles are in the driver's seat of the NFC East, tied with the Dallas Cowboys for first place. Philadelphia's schedule has positioned them for a playoff run. All but ...