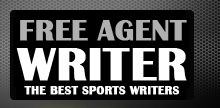 Yankee Addicts
Categories
Featured Sponsors
October 2012 Archive
October 31, 2012
The Tampa Bay Buccaneers head to Oakland to take on the Raiders—another young team that took a new direction in 2012.The Buccaneers (3-4) have many of the same characters that ...
October 31, 2012
Browns vs. Ravens. Just saying the words conjures up bitter emotions and images of gritty, defensive battles. This matchup embodies everything we love about the AFC North.Sure, the Baltimore Ravens have ...
October 31, 2012
The New England Patriots defense has had its share of struggles through the first half of the 2012 season, but what is most baffling and frustrating is how its problems ...
October 31, 2012
Looking for a little boost for your fantasy football roster this season, but your league's waiver wire just doesn't cut it when it comes to big-time points?Don't worry. You have ...
October 31, 2012
We have reached the half way point of the NFL schedule and the Cleveland Browns sit with a 2-6 record. After eight weeks in the saddle as starting quarterback, the ...
October 31, 2012
Ryan Tannehill faces off against Andrew Luck as the Miami Dolphins travel to Indianapolis to take on the Colts.The Dolphins (4-3) have been outplaying every reasonable projection for their young ...
October 31, 2012
Alright Bronco fans, you may hit enter on that Google search for Super Bowl flights and accommodations now. Denver's offseason and training camps were loaded with hype, huge expectations and big prophecies about ...
October 31, 2012
The St. Louis Rams (3-4) are a game below .500 and are currently stuck in the toughest stretch of their schedule. The optimism was soaring as the Rams earned a ...
October 31, 2012
I'm not sure if you've heard, but the Buffalo Bills spent A LOT of money on improving the defense during the last two offseasons. I'm also not sure if you've ...
October 31, 2012
It was a case of the Good, Bad and the Ugly for the Cowboys offense on Sunday or perhaps I should say Ugly, Good then Bad. Through the first ...