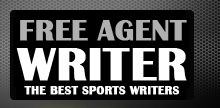 Yankee Addicts
Categories
Featured Sponsors
July 2016 Archive
July 31, 2016
San Diego Chargers wide receiver Stevie Johnson suffered a knee injury at training camp Sunday and had to be helped off the field. It is uncertain when he will return. Continue ...
July 31, 2016
Despite having an agreement in place through the 2019 season, the New England Patriots and All-Pro tight end Rob Gronkowski are reportedly discussing a new contract.  Continue for updates. Pats, Gronk in ...
July 31, 2016
The supply of NFL starting-caliber quarterbacks doesn't come close to meeting the demand. You hear that so often it can become white noise. It begins to sound like an excuse to the beleaguered Cleveland ...
July 31, 2016
With NBA and WNBA stars recently speaking out regarding the police-related shooting deaths of Philando Castile and Alton Sterling, Seattle Seahawks defensive end Michael Bennett called for NFL players to ...
July 31, 2016
The drama dragged into July, but quarterback Ryan Fitzpatrick will be back under center for the New York Jets in 2016 after inking a one-year, $12 million deal Wednesday. His ...
July 31, 2016
Josh Gordon has one of the best documented backgrounds of an NFL receiver with 161 receptions in the history of the sport. While there's hype surrounding his 2016 return to ...
July 30, 2016
The San Francisco 49ers will reportedly be without nose tackle Ian Williams for the entire 2016 season. According to Matt Maiocco of CSNBayArea.com, the 49ers placed the Notre Dame product on ...
July 30, 2016
Seattle Seahawks star tight end Jimmy Graham will begin training camp on the sidelines as he recovers from a season-ending knee injury that cut short his 2015 campaign. Continue for updates. Graham on ...
July 30, 2016
After seemingly losing their entire starting roster to retirement last year, the San Francisco 49ers got good news Saturday when star offensive tackle Anthony Davis was reinstated to the team. NFL Network's ...
July 30, 2016
The Kansas City Chiefs and tackle Eric Fisher avoided any contractual dispute Saturday, agreeing to a four-year, $48 million extension.  Adam Schefter of ESPN.com reported the terms of the deal, which includes ...