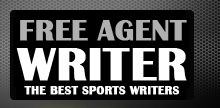 Yankee Addicts
Categories
Featured Sponsors
October 2016 Archive
October 31, 2016
The New England Patriots have traded linebacker Jamie Collins to the Cleveland Browns in exchange for a compensatory third-round pick, according to Adam Schefter of ESPN and Albert Breer of ...
October 31, 2016
Fact: Derek Carr threw for 513 yards in the Oakland Raiders' 30-24 win over the Tampa Bay Buccaneers on Sunday, setting a franchise record for most passing yards in a ...
October 31, 2016
There are no undefeated teams left in the NFL at the halfway point of the 2016 season, but many teams have become contenders as the season has progressed. Who would have ...
October 31, 2016
After a sterling 14-year career that will assuredly get him some consideration for Canton, Andre Johnson is calling it quits. Tennessee Titans general manager Jon Robinson confirmed Johnson informed the team ...
October 31, 2016
The fantasy football waiver wire goes through phases like anything else. Some weeks the wire offers heaps of wide receivers while little at running back. Week 8? It was all about ...
October 31, 2016
The 2016 NFL season is at its virtual halfway point, and there isn't as much separation as some might have expected. While the New England Patriots are obviously in great shape ...
October 31, 2016
Week 9 of the 2016 NFL season is fast approaching, and as the season progresses, fewer players are available on the waiver wire. It's a crucial time for fantasy owners, as ...
October 31, 2016
With Week 8 of the NFL season nearly in the books, it's time to look ahead to Week 9 as teams push past the midway point of the 2016 campaign ...
October 31, 2016
Another week in the books, another loss for the Cleveland Browns, who continue to cling to the No. 1 pick in the 2017 NFL draft. The competition behind the Browns grew ...
October 31, 2016
After a second week in a row that featured a tie, it just goes to show how unpredictable the 2016 NFL season has been through eight weeks. But let's not focus ...