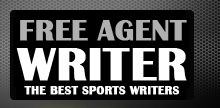 Yankee Addicts
Categories
Featured Sponsors
March 2014 Archive
March 30, 2014
Over the past 10 years, the Buffalo Bills have not found much success in the first round of the NFL Draft. In this time frame, they have selected 12 players. ...
March 30, 2014
Lovie Smith blew into Tampa Bay on the heady winds of change and wasted little time in transforming the team in his image. The Buccaneers were one of one the most ...
March 30, 2014
In a shocking move, the Philadelphia Eagles officially parted ways with three-time Pro Bowl receiver DeSean Jackson, announcing the decision per the team's official Twitter account.   After careful consideration this offseason, ...
March 29, 2014
The Tennessee Titans will head into the 2014 season with a new head coach and the possibility of having a new starting running back, if they eventually move Chris Johnson. But ...
March 29, 2014
If you ever wondered what Richard Sherman and DeSean Jackson looked like as kids, now you know.Sherman tweeted this picture of the two of them on the same Little League ...
March 29, 2014
It's over. The Philadelphia Eagles have finally released DeSean Jackson, ending the wide receiver's tenure with the team after six seasons. The veteran playmaker is now a free agent who ...
March 29, 2014
This is awesome. Taylor Kirkwood is an 18-year-old student at Anahuac High School in Texas who has autism. That didn't keep her from winning homecoming queen, however, and now she'll be accompanied ...
March 29, 2014
When the Philadelphia Eagles began shopping DeSean Jackson, it came as a bit of a surprise. After all, he was the team's most dynamic threat at the wide receiver position ...
March 29, 2014
Dave Gettleman is heading into his second season as the general manager of the Carolina Panthers and in the precarious position of rebuilding a 12-4 division champion. I emphasize the word rebuilding ...
March 29, 2014
With most of the high-profile signings in free agency already taken care of, most NFL organizations have now shifted their focus toward improving through the draft. This year's class appears to ...