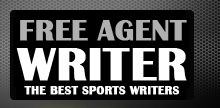 Yankee Addicts
Categories
Featured Sponsors
February 2013 Archive
February 27, 2013
Remember when Notre Dame's Manti Te'o was a lock to be a top-10 pick in the 2013 NFL draft?  In the fast-paced world of draft speculation, that may seem like ...
February 27, 2013
The National Football League is buzzing about Washington cornerback Desmond Trufant after some eye-opening performances during the draft process.Trufant not only displayed impressive man-to-man coverage skills and toughness during Senior ...
February 27, 2013
Now that the scouting combine has concluded, it's time to roll out another mock draft. The landscape of the 2013 NFL draft has changed, even if the actual event is ...
February 27, 2013
Alabama cornerback Dee Milliner will go in the top 10 selections of the 2013 NFL Draft—there can simply be no arguing or disputing that fact.His performance at the 2013 NFL ...
February 27, 2013
Most fans and writers (including this guy) would agree that the New England Patriots need to upgrade the other starting safety spot alongside Devin McCourty, but are we ...
February 27, 2013
Invariably, there is a player at every NFL Scouting Combine who wows scouts, general managers and media members en route to skyrocketing up the draft board. Gifted with an innate ...
February 27, 2013
Former Notre Dame head coach Charlie Weis should be feeling vindicated after this past week. Eight members of his 2009 recruiting class received invitations to the NFL Scouting Combine over the ...
February 27, 2013
The 2013 NFL combine has come and gone, and some players helped themselves, but others really hurt their draft stock with poor performances at a critical time. As we get ...
February 27, 2013
Last Thursday New York Giants defensive end Mathias Kiwanuka agreed to restructure his contract, according to Jenny Vrentas of The Star-Ledger.  This move, plus the release of Ahmad Bradshaw, Chris ...
February 27, 2013
The Pittsburgh Steelers have several players that are noticeably on the decline. Their careers are a handful of years from being over at most, and the team must start looking ...