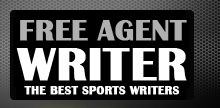 Yankee Addicts
Categories
Featured Sponsors
December 2016 Archive
December 31, 2016
There are a handful of knowns heading into Week 17, the last of the 2016 NFL regular season. The AFC North champion Pittsburgh Steelers are locked into the No. 3 seed. ...
December 31, 2016
Although there is still plenty left to be decided during the 2016 season, many eyes are already on the 2017 NFL draft, as the majority of the league's teams have ...
December 31, 2016
The Tampa Bay Buccaneers and punter Bryan Anger came to terms on a multiyear contract extension Saturday. The Bucs announced the news on their official Twitter account, and Greg Auman of ...
December 31, 2016
We still have a full week remaining in the 2016 regular season, followed by more than a month's worth of postseason action. Does this mean it's too early to begin ...
December 31, 2016
For some brave souls, the fantasy football season is not yet complete. Not every league wipes Week 17 from memory. Despite the complications raised from playoff teams resting key starters, some ...
December 31, 2016
With one Sunday to go in the NFL season, 10 of the 12 playoff teams are known commodities. There are two openings up for grabs, and there is quite a bit ...
December 31, 2016
As usual, the NFL saves its best for last with some of the league's best divisional rivalries getting an end-of-season send-off.  The NFL couldn't predict this year's playoff scenarios would be ...
December 31, 2016
Philadelphia Eagles wide receiver Jordan Matthews will miss the team's Week 17 clash with the Dallas Cowboys because of an ankle injury. The Eagles officially announced Matthews was inactive on Sunday. Matthews ...
December 31, 2016
All 32 NFL teams are in action on a jam-packed Sunday of football, but only a handful of those teams are playing in games that will have any bearing on ...
December 31, 2016
Week 17 means the end of fantasy football until next fall, while the picks out of Las Vegas see the field drastically reduced as the playoffs begin.  In other words, it ...