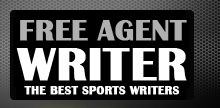 Yankee Addicts
Categories
Featured Sponsors
June 2013 Archive
June 30, 2013
With new faces in new places, rookies and players bouncing back from season-ending injuries for the 2013 NFL season, that only means one thing for fantasy football owners: There are ...
June 30, 2013
As it currently stands, the Tampa Bay Buccaneers will go into the 2013 season with a very young and inexperienced group of running backs. Outside of the stellar rookie season ...
June 29, 2013
A few months ago, we looked at the best quarterback in each NFL team's history. Today, we will examine the best running back each franchise ever had.The player with the ...
June 29, 2013
Even as a fan at a baseball game, San Francisco 49ers head coach Jim Harbaugh doesn't look happy.  Smile, coach. It's the offseason! Thanks to Cut4 and For The Win for the ...
June 29, 2013
The Denver Broncos are absolutely stacked on both sides of the ball, but there is one position that brings up some question marks.Denver's running backs (specifically Willis McGahee) did a ...
June 29, 2013
For Tim Tebow to get another legitimate shot at being an NFL quarterback, he needed to play for a coaching staff who believes in him.By being reunited with former Denver ...
June 29, 2013
Congratulations!As an NFL general manager who's just spent a high draft pick on a rookie quarterback, you've got an employee who's going to make you look like a genius for ...
June 29, 2013
The Philadelphia Eagles are possibly dealing with a dog-fighting fiasco, as Bryce Brown's dogs have been taken on suspicion of dog fighting.According to Christena T. O'Brien of the Leader-Telegram, 27 dogs were ...
June 29, 2013
Jason Witten may very well be a first ballot Hall of Famer by the time his career wraps up. He is the consummate professional and team player in addition to ...
June 29, 2013
I'm getting ready for my daily visits to the Detroit Lions' HQ and training facility in Allen Park, Mich. for training camp. The anticipation is building. The questions are piling ...