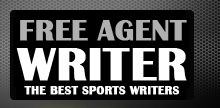 Yankee Addicts
Categories
Featured Sponsors
June 2012 Archive
June 30, 2012
San Francisco 49ers' linebacker Aldon Smith has had quite the tumultuous offseason, and it's time to start raising the red flags after his latest incident in which he was reportedly ...
June 30, 2012
LaDainian Tomlinson has recently decided to retire as a San Diego Charger. Though he did not play the last few years at the same high level that he enjoyed earlier ...
June 30, 2012
The National Football League as a whole is a stuffy organization. Guys get fined for not having socks the correct length. One advantage to being a fan is that you ...
June 30, 2012
Chicago Bears linebacker Brian Urlacher came out this week with a very revealing comment regarding his previous contract squabble with the team.In an interview at "Lunch with a Legend" on the Waddle and Silvy Show ...
June 30, 2012
San Francisco 49ers linebacker Aldon Smith was stabbed at a party on Saturday morning, but the injuries were not serious. Update on June 30, 9:34 p.m. EDT, by Michael Moraitis More news ...
June 30, 2012
Following the departure of wide receiver Hines Ward and defensive end Aaron Smith, the 2012 Pittsburgh Steelers will no longer feature any players who played for the team at Three ...
June 30, 2012
In case you missed a list to see where some of your Philadelphia Eagles rank, here is your one-stop shopping guide to get you all caught up. Maybe we ...
June 30, 2012
It's not a secret that this year's running backs all have huge question marks hanging over their heads, scaring fantasy owners from the prospect of drafting them. There does, however, ...
June 30, 2012
Steven Jackson could be primed for the finest year of an outstanding career. Many may feel that the 28-year-old could be on the wane as he enters his ninth season.However, ...
June 30, 2012
Four second-round picks from the 2012 NFL draft have a great chance to outshine the first-round selections at their respective positions.The group includes a speedy rush end who will surely ...