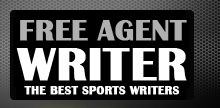 Yankee Addicts
Categories
Featured Sponsors
July 2011 Archive
July 31, 2011
After losing top receiver Sidney Rice, the Minnesota Vikings' next move appeared to be going after wideout Braylon Edwards.But they have since appeared to pull the plug on a potential ...
July 31, 2011
The Philadelphia Eagles have been putting on a clinic in free agency so far this offseason.First, they traded away backup quarterback Kevin Kolb to the Arizona Cardinals in exchange for ...
July 30, 2011
The first week of the new NFL season is almost in the books, and there have been two surprises thus far. The first is how stacked the Eagles defense has ...
July 30, 2011
The New York Giants have a leader. His name is Eli Manning.Whether he is shouting out signals behind center or yelling at players on the sideline, Manning is the heart ...
July 30, 2011
After clearing close to $20M in cap space with releases and free agent departures, the Packers seem to have put a kink into the Minnesota Vikings plans to sign wide ...
July 30, 2011
Predicting the future is hard. Just ask Harold Camping who had the faithful and the gullible buying canned food and bottled water back in May. At least people don't place ...
July 30, 2011
Peyton Manning has just signed a five-year, $90 million extension with the Indianapolis Colts, and even though Manning is still a top-tier NFL quarterback, the fact that he's making the same paycheck ...
July 30, 2011
It's been a fascinating week in the sports world, with NFL free agency and the MLB trade deadline combining to give us the "Dream Week" phenomenon FanMan discussed at length in its latest ...
July 30, 2011
With the madness that has been the condensed offseason process, many players and teams have been winners and losers. Some of the biggest surprises are still unfolding, and the changes ...
July 30, 2011
This is just getting sad. It's obvious that no one wants any business with Tiki Barber. All he's doing now is embarrassing himself and wasting his time. He's the New York Giants all-time leader ...