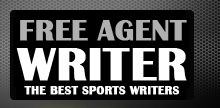 Yankee Addicts
Categories
Featured Sponsors
March 2016 Archive
March 31, 2016
Los Angeles football fans now know how much they will have to pay to see the new team in town. The Los Angeles Rams announced pricing options for season-ticket packages on ...
March 31, 2016
With the free-agent market largely settled at this point, veteran linebacker Spencer Paysinger has decided to re-sign with the Miami Dolphins.    The Dolphins confirmed Paysinger's signing Thursday on their official ...
March 31, 2016
Tight end MarQueis Gray reached an agreement with the Miami Dolphins on a new contract on Thursday, announced the team. Omar Kelly of the South Florida Sun-Sentinel noted he "has played in 29 games the ...
March 31, 2016
Washington signed defensive tackle Terrance Knighton before the 2015 campaign and proceeded to reach the postseason. The New England Patriots probably hope that formula works again in 2016 considering Thursday's news. New England inked ...
March 31, 2016
New York Jets wide receiver Brandon Marshall isn't just a superstar on the field. He is also an Emmy-nominated television personality. Marshall took to Instagram on Thursday to announce he was ...
March 31, 2016
The Miami Dolphins announced they will be reuniting with running back Daniel Thomas on Thursday. Thomas was a second-round pick out of Kansas State in 2011 but didn't live up to the expectations ...
March 31, 2016
Unable to carve out a role within the Denver Broncos' magnificent defense, veteran defensive back Omar Bolden is trying his luck elsewhere in free agency.  The Chicago Bears announced they signed ...
March 31, 2016
Minnesota Vikings linebacker Chad Greenway re-signed with the team on a one-year deal on Thursday, according to Tom Pelissero of USA Today.  Greenway confirmed on Twitter that he would be returning ...
March 31, 2016
Cleveland Browns quarterback Josh McCown didn't sound like someone resigned to a reality of relegation while speaking at length Thursday on PFT Live about the team's perpetually unstable situation at ...
March 31, 2016
The Miami Dolphins announced the signing of veteran running back Isaiah Pead on Thursday. Pead spent the past four seasons with the Los Angeles Rams franchise and had just 19 rushing attempts ...