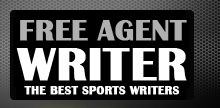 Yankee Addicts
Categories
Featured Sponsors
December 2015 Archive
December 31, 2015
The Will Smith movie Concussion has shed additional light on head injuries in the NFL, but Seattle Seahawks cornerback Richard Sherman doesn't intend to see it because of his firsthand ...
December 31, 2015
In his first three seasons as Indianapolis Colts head coach, Chuck Pagano overcame cancer while pushing the the team to a playoff appearance each year. A lost fourth season has apparently cost him ...
December 31, 2015
If you'll allow a firm contradiction, the NFL's playoff picture is at the same time clear and entirely up in the air. Of the 12 playoff spots, 10 are filled ...
December 31, 2015
Week 17 can be summed up by this: Who's going to make a play? It's cliche, but with the 2015 season down to its final regular-season games, it comes down to ...
December 31, 2015
The Minnesota Vikings will play for a division title and playoff seeding within the NFC playoffs when the team travels to Green Bay to take on the Packers in Week ...
December 31, 2015
The Philadelphia Eagles dropped a bombshell this week when just days after being eliminated from playoff contention, the organization released Chip Kelly after three seasons. Depending on where you stand ...
December 31, 2015
Fantasy owners that are still alive have one more week to get it right with the NFL's top stars. It's never easy. Last week, Pittsburgh Steelers quarterback Ben Roethlisberger posted just ...
December 31, 2015
The final weekend of the NFL season will provide the answers to the playoff conundrum. The 2015 season does not have the variables that many of the past years have had ...
December 31, 2015
Apparently, there is at least one surefire way to impress J.J. Watt: have his face shaved into your hair.The Houston Texans star defensive end tweeted a photo of one fan's ...
December 31, 2015
Is it too early to conduct a 2016 fantasy football mock draft? Clearly, we didn't wait for you to answer, because, well, this is a 2016 fantasy football mock draft.  The ...