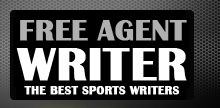 Yankee Addicts
Categories
Featured Sponsors
May 2010 Archive
May 31, 2010
After the release of Donavan McNabb and Brain Westbrook by the Eagles, the whole division is going to experience a land slide shift in power. It only adds to that ...
May 31, 2010
The Cincinnati Bengals are facing their most formidable schedule in over a decade.  Being what it may, the following are the bullet points for success or simply survival: Top Questions for ...
May 31, 2010
The New York Jets and the Miami Dolphins. Two AFC East rivals who have played some of the most memorable games in NFL history. They have a lot in common, ...
May 31, 2010
The NFL is full of teams that seem to be cursed, and the New York Jets are only one of them. The Jets, ranked No. 8 on the list of cursed ...
May 31, 2010
Not only does Chad Ochocinco score touchdowns, he scores with his heart as well. For all of you Ocho haters out there, who cares? The man is having fun with his ...
May 31, 2010
When the Buffalo Bills brought in Terrell Owens last year, second-round draft pick James Hardy literally saw no playing time. He had only one catch for nine yards in a 31-3 ...
May 31, 2010
Hello everyone and welcome back to our third installment of the most memorable games in Atlanta Falcons history. I appreciate everyone's suggestions, which has helped me make some changes ...
May 31, 2010
You must be wondering why do I have a picture of Drew Brees up as a Charger for this article.  Well, this is basically a article about the analyst, the ...
May 31, 2010
By now everyone knows that tomorrow marks the day when St Louis Rams star safety Oshiomogho (O.J.) Atogwe will become an unrestricted free agent. Fans have been drooling over the ...
May 31, 2010
In 2009, star Redskins HB Clinton Portis had a highly disappointing season. The star Redskins HB ran for barely over 400 yards. The Skins had a disaster 5-11 season, ...