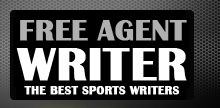 Yankee Addicts
Categories
Featured Sponsors
April 2015 Archive
April 29, 2015
The Lovie Smith era did not get off to a great start for the Tampa Bay Buccaneers in 2014 but there are pieces in place to think a strong foundation ...
April 29, 2015
The Baltimore Ravens have routinely been one of the better drafting teams in the NFL. That's evident when you look at their current roster, which still has many players who helped Baltimore ...
April 29, 2015
There are just two days until arguably the most anticipated draft day in the Philadelphia Eagles' history. What Chip Kelly does could be his defining moment as the team's head coach, ...
April 29, 2015
After hoisting their fourth Lombardi Trophy in February, the New England Patriots lost several core players. Darrelle Revis went back to the New York Jets. Vince Wilfork, who helped New ...
April 29, 2015
There will be nervous eyes watching the NFL draft Thursday night from many different locations. Some picks may cause fans at home to not watch at all and instead closely ...
April 29, 2015
The 2014 Arizona Cardinals were a tale of what could have been. Losing quarterback Carson Palmer to a torn ACL changed everything, as the offense crumbled and the promising season ...
April 28, 2015
Philosophers will tell you that identity is a shifting, overdetermined, social construction, but the identity of a football team consists of something slightly more concrete, molded from a combination of ...
April 28, 2015
There's no question who Syracuse student Patrick Johnston wants his New York Jets to select in the first round of the 2015 NFL draft.Many believe the Tampa Bay Buccaneers will take ...
April 28, 2015
Former LSU offensive tackle La'el Collins, considered by many to be a potential first-round draft pick, is wanted for questioning regarding the death of his alleged ex-girlfriend in Baton Rouge. ESPN's ...
April 28, 2015
The Cleveland Browns hold both the 12th and 19th picks in the 2015 NFL draft, but they could look to deal them to pick higher. Who would they target in the ...