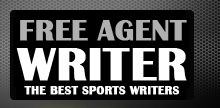 Yankee Addicts
Categories
Featured Sponsors
June 2010 Archive
June 30, 2010
For the last few months I have been ranking the decades best at each position. I have saved the biggest position for last, quarterbacks. This ranking is for how they ...
June 30, 2010
We've all heard the phrase a team throws around when they have three talented players at one position; it's generally known as the three-headed dragon or something along those lines. How ...
June 30, 2010
It is now quiet around the NFL, unless your name is Michael Vick.  Most of the teams are in between OTAs and training camp. The Raiders look like they have ...
June 30, 2010
Running back Brandon Minor, from the University of Michigan, went undrafted and signed with the Bears almost immediately after the draft this season. Minor led Michigan in rushing ...
June 30, 2010
Say it ain't so.  I'm afraid it is.  The NFL grapevine has it that the JaMarcus Russell could land in Arizona.  And everybody groan... I know, as Cardinals fans, that this is not what ...
June 30, 2010
I'm sure you are expecting raw unadulterated hate because I'm a Patriots fan.  Sorry to disappoint you. New York fans might think I'm jealous because the Jets are this year's sexy ...
June 30, 2010
Wide receivers are divas. It's in their nature. Two of the top pass catchers from the 2010 class slide down boards because of concerns about whether or not ...
June 30, 2010
With the dust finally settled on the 2010 offseason, and with training camps around the corner, it's time to take a look at how the NFL landscape has changed. In ...
June 30, 2010
The Houston Texans are coming off of their first winning season in franchise history and are poised for a playoff run in 2010. In fact, many have projected the Texans as ...
June 30, 2010
This is the first in a series of three articles discussing what the Washington Redskins must accomplish in 2010 to contend for a Super Bowl. With training camp a month ...