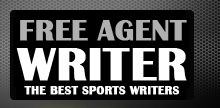 Yankee Addicts
Categories
Featured Sponsors
August 2010 Archive
August 31, 2010
A cup with the Oakland Raiders logo was set on a desk. Students began to tell the professor what they saw. Here are some of the responses: One student said he saw a ...
August 31, 2010
The New York Giants wide receiver Victor Cruz has been lighting up the second half of preseason games so far this year, but will he have done enough to make ...
August 31, 2010
Houston Texans tight end Owen Daniels passed a physical and was removed from the active/Physically Unable to Perform list on Monday. Daniels caught 40 passes for 519 yards and five touchdowns ...
August 31, 2010
The starters will likely sit when the Colts wrap-up their preseason against the Cincinnati Bengals at Lucas Oil Stadium Thursday night. A number of starters have missed some preseason action, including ...
August 31, 2010
If things play out this season as I expect them too NFL fans should be treated to an epic duel for Defensive Rookie of the Year Honors between defensive tackle ...
August 31, 2010
In trimming their roster down to 75, the Buccaneers released running back Derrick Ward Tuesday afternoon. After rushing for 1,025 yards with the New York Giants in 2008, the Buccaneers signed ...
August 31, 2010
I've already posted initial post-game notes, "DOs and DON'Ts analysis," and what we learned from the Cowboys/Texans game. Now that I've finally had a chance to completely break ...
August 31, 2010
The NFL season is just around the corner, meaning fantasy football enthusiasts are gearing up for a grueling season of following games on television, Internet and cell phone just to ...
August 31, 2010
As we expected, Derrick Ward was released by Tampa Bay today. The Bucs signed Ward last year to challenge Cadillac Williams for the No. 1 running spot on the depth chart, ...
August 31, 2010
Okay, here we go.The rosters will be chopped down to the magic number (53) by 1pm Sept 4. I'm not expecting too many big surprises, but my roster list travels ...