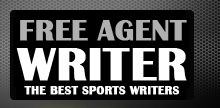 Yankee Addicts
Categories
Featured Sponsors
January 2011 Archive
January 30, 2011
What exactly do the Philadelphia Eagles plan on doing with Michael Vick?There has been no word yet of Vick being signed to a long term multi-million dollar deal, causing tensions ...
January 30, 2011
Is there a more meaningless contest in professional sport than the Pro Bowl? As an exercise in utter pointlessness, it appears to be without equal. And now, thanks to the ...
January 30, 2011
3,653 yards passing. 20 TD passes.87.5 QB Rating Just 12 INTs. For many NFL teams, these numbers from their quarterback would not be something that they would be unhappy about.These were Kyle Orton's ...
January 30, 2011
Too bad Jake Locker isn't an astrophysicist. If he were, maybe the most second-guessed decision relative to the 2011 NFL Draft would soon not exist. No plutonium-fueled DeLorean from Back ...
January 30, 2011
The Under Armour Senior Bowl is a peculiar setting.Top prospects from a smorgasbord of different systems all over the nation are gathered and brought to Mobile, Alabama. There, they are ...
January 30, 2011
  Drew Thurman (9:54 pm) Dane Sanzenbacher was a late addition to the Senior Bowl roster, not even getting to practice in Mobile, Alabama with his teammates until Tuesday. He made ...
January 30, 2011
Super Bowl 2011 is a week away, and the anticipation for the NFL's biggest game has steadily built since the Green Bay Packers and Pittsburgh Steelers won their way to ...
January 30, 2011
With "The Road to Dallas" just 8 days away, I've decided to look into all the players on both the Steelers and Packers, to see the "road" these ...
January 30, 2011
Earlier this week, I previewed the 2011 Senior Bowl quarterbacks for the Minnesota Vikings. One player I did not include was Florida State QB Christian Ponder. But he outplayed the ...
January 30, 2011
With the college football season finally at an end and the deadline for underclassmen to declare for the 2011 NFL draft, it's finally a good time to start taking a ...