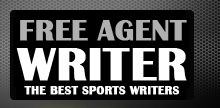 Yankee Addicts
Categories
Featured Sponsors
May 2011 Archive
May 21, 2011
There may not be a division with better rivalries than the storied AFC North. Every fan base loathes the other three, which makes it one of the most intense divisions ...
May 21, 2011
The NFL lockout successfully brings out the best and worst in everybody. It brings out frustrated fans, and it brings out the urgency placed on coaches. Yes sir, Roger Goodell ...
May 21, 2011
This last month, graduation as well as other commitments have prevented me from really covering much in the sports world. However, my friend, All-State offensive guard and football researcher Zack Palmer, has ...
May 21, 2011
They say that those who forget history are doomed to repeat it. For Broncos fans, that's an easy proverb to ignore. So here's a better one: Lightning never strikes twice ...
May 21, 2011
Last season in Reliant stadium one of the NFL's most embarrassing moments happened. Courtland Finnegan and Andre Johnson threw punches on he field. Both were ejected and fined. Because of ...
May 20, 2011
Tailgating is one of the most indelible marks in football since the inception of the game. So what better way to build a short little slideshow than to highlight the ...
May 20, 2011
It's not Sidney Rice, DeAngelo Williams, or LaMarr Woodley.Rather, Nnamdi Asomugha is the best free-agent-to-be on the potential market.Asomugha has been a shutdown corner in Oakland for a long time, ...
May 20, 2011
    Can someone please explain to me why the Jets drafted Greg McElroy?    A young accomplished QB?  Attention New York Jets!!!!  You already have a young accomplished QB.  His ...
May 20, 2011
This year, Kevin Kolb's trade value skyrocketed to the point of being worth a first-round draft pick and change.After Matt Schaub was traded to the Texans for a few second-rounders, ...
May 20, 2011
The men that stand in at linebacker have arguably the toughest job on the football field (on the defensive side, that is).  That is because they must adapt to any ...