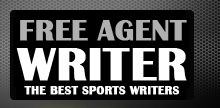 Yankee Addicts
Categories
Featured Sponsors
July 2011 Archive
July 30, 2011
It's not over. The offseason spree. The revitalization. The bellows of Super Bowl bluster.There's still a chance, still moves to be made. Dallas can recover.Listen. Losing Nnamdi Asomugha stung. And that ...
July 30, 2011
The Philadelphia Eagles have once again swooped in and boosted their defense during the free-agency frenzy. The Eagles have signed former Green Bay Packers defensive tackle Cullen Jenkins to a ...
July 30, 2011
For many fans, the NFL season ends when their teams are eliminated from playoff contention, and they are forced to find other things to devote their passion to. Some look ...
July 30, 2011
Peyton Manning has signed a new five-year, $90 million contract with the Indianapolis Colts. The selfless quarterback took less money to allow his team some flexibility under the salary cap, ...
July 23, 2011
Using a "roller coaster" as a metaphor to describe someone's life journey is as cliché as it gets, but there's no better way to describe Pittsburgh Steelers quarterback Ben Roethlisberger's ...
July 23, 2011
If there is one thing that most Super Bowl Champions have in common it's that they have a dominate offensive line.The ability to protect the quarterback and open up large ...
July 23, 2011
I don't know about you, but all this talk about the end of the NFL lockout is getting me excited for free agency. One team that is rumored to be ...
July 23, 2011
We could have football as early as next weekend according to a report from ESPN.John Clayton and Chris Mortensen contributed to a report that states: NFL owners and players have tentatively ...
July 23, 2011
Over the last decade, the NFL has steadily evolved into a passing league. While most of us still like to see teams use the ground game to dominate ...
July 23, 2011
Earlier this week, the owners of all 32 NFL teams approved what could ultimately be a new labor deal.  All it needed was the players' approval, and the NFL lockout ...