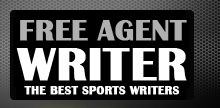 Yankee Addicts
Categories
Featured Sponsors
August 2011 Archive
August 21, 2011
If you ask anyone why they don't think Tim Tebow can be a starting NFL quarterback, they would immediately point to his physical ability.Few would argue that point but after ...
August 21, 2011
The Buffalo Bills (0-1) travel to the Mile High City to take on the Denver Broncos (0-1 ) tonight in both team's second game of the 2011 preseason. Tim Tebow is ...
August 21, 2011
Chicago Bear's quarterback Jay Cutler is one of the most criticized players in the NFL. Ever since Jay Cutler has left the Denver Broncos, he has been unfairly chastised every time he turns ...
August 21, 2011
I run an NFL blog and semi-weekly NFL podcast. (We produce 30-minute shows three times a week; that isn't semi-weekly, I know, but what would you call it?) Our first NFL ...
August 21, 2011
Now that the summer-long NFL lockout is over, football fans can finally exhale a sigh of relief that there will indeed be a 2011-12 season.That said, every team has a ...
August 21, 2011
The quarterback position has been a troubled one for a long time now, and both Matt Hasselbeck and Jake Locker have been brought in to fix that in 2011. Both ...
August 21, 2011
The Houston Texans will take to the field at Reliant Stadium in Houston against the New Orleans Saints. Game time is set for 7:00 p.m. CDT. Houston is coming off ...
August 20, 2011
In case you missed it getting caught up in the hype for Buffalo's upcoming preseason battle with Denver, Terrelle Pryor, former Ohio State quarterback, held a pro day that was ...
August 20, 2011
The Bay Area Preseason classic takes place this evening, with the Raiders traveling across the bay to visit the San Francisco 49ers.Both teams have a number of questions to address ...
August 20, 2011
Last year's preseason game against the New Orleans Saints, in the Superdome, was disappointing for the Houston Texans.They were torched not only by Saints starting QB Drew Brees for two ...