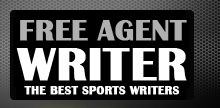 Yankee Addicts
Categories
Featured Sponsors
October 2011 Archive
October 29, 2011
Week 8 means that Aaron Rodgers isn't playing because the Green Bay Packers have a bye so fantasy owners are scrambling to find a replacement. There won't be many great ...
October 29, 2011
Miami Dolphins rookie running back Daniel Thomas was declared out with a hamstring injury on Saturday for Sunday's game against the New York Giants, which means Reggie Bush will likely ...
October 29, 2011
There are so many options when it comes to picking NFL games, and one of the more overlooked types is the over/under.Using the line, which usually range from high-30s to ...
October 29, 2011
The NFL's game of the week has plenty of controversy around it. But this isn't coming from any trash talk or anything that you would tend to expect from a ...
October 29, 2011
Houston Texans running back Ben Tate is one of several sleeper RBs you should either add off of your fantasy league's waiver wire or start on your team this week.With ...
October 29, 2011
Put down your draft magazine. Wipe away those tears. Your team may not have gotten off to the start you wanted, but there is still a glimmer of hope for ...
October 29, 2011
In the world of the NFL, it's tough to be encouraged with a defeat. In college, it's a little different. When a school with a tiny recruiting budget and high ...
October 29, 2011
Michael Wilbon may be a Bears fan, but he's off-base here, in my opinion. He believes that Terrell Owens could help the Bears, but I say it's just not worth ...
October 29, 2011
New Orleans Saints quarterback Drew Brees has another easy matchup this week against the St. Louis Rams, his second consecutive opponent who has yet to win a game this NFL ...
October 29, 2011
Tim Tebow is humble, the definition of a character guy and a fearless leader. He's got the moxy, fearlessness and an ability to come through in the clutch, all of ...