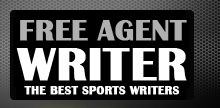 Yankee Addicts
Categories
Featured Sponsors
June 2012 Archive
June 30, 2012
Chicago Bears running back Matt Forte has been locked in a tough contract battle with the club over the last few months, but he may have thrown away all of ...
June 30, 2012
Ron Jaworski ranked Michael Vick as the 12th-best quarterback in the NFL, ahead of Matthew Stafford, Matt Schaub, Cam Newton and Andy Dalton. After a bad season for the Eagles signal-caller, one ...
June 30, 2012
If you watched the Denver Broncos last season and felt like the offense was a bunch of running around waiting for someone to get open, you may have been on ...
June 30, 2012
With NFL training camp being the last step in the offseason before the televised preseason games, it is the time to iron out any on or off-the-field issues. All squads ...
June 30, 2012
Every season in the NFL seems to have some controversial moments, which is inevitable when you have 32 different teams that are literally fighting for the same goal—to become world ...
June 30, 2012
The National Football League is far from predictable. We all know the saying that a team can win on any given Sunday—but that also holds true for saying any team ...
June 30, 2012
After just one season as the San Francisco 49ers head coach, Jim Harbaugh has already joined some elite company. Harbaugh and his staff stepped in and immediately righted the ship ...
June 30, 2012
This is not your father's National Football League—and in more ways than one.  With modern free agency comes the transience of NFL players that most now-generation fans and analysts have grown up ...
June 30, 2012
When the AFL and NFL merged, the Jets had perhaps the top quarterback in the sport as the league started its takeover as the great American pastime.One would have figured ...
June 30, 2012
The NFL is a business, and just like any business it is sometimes important to let people go in order to move the company forward. The San Francisco 49ers did ...