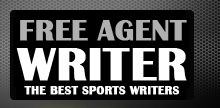 Yankee Addicts
Categories
Featured Sponsors
August 2012 Archive
August 29, 2012
The 2012 NFL season will be remembered as a record-breaking year.With NFL rules favoring the offensive side of the ball, offensive schemes have opened up. New Orleans Saints quarterback Drew ...
August 29, 2012
The Philadelphia Eagles will be signing former All-Pro running back Brian Westbrook to a one-day contract on Friday, where Westbrook will officially retire as an Eagle. In eight seasons with ...
August 29, 2012
The NFL regular season begins in less than a week. The headlines have all played out during the offseason and the preseason. Injuries have been noted, most holdouts have been ...
August 29, 2012
The Miami Dolphins enter their fourth and final preseason game with more questions than nearly any other team in the league. The starting quarterback has been decided, but little else ...
August 29, 2012
Before the NFL season starts, sports writers and sports bloggers everywhere churn out list-related content left and right.Why? Because we can only speculate about what will happen to our favorite ...
August 29, 2012
With three preseason games in the books and the finale tomorrow night in the nation's capital, who the Buccaneers are and the type of team they will be under new ...
August 29, 2012
Chris Cooley was recently released by the Washington Redskins in a cost-saving move that will have many teams scrambling to sign his services.Cooley was a quality tight end for Washington ...
August 29, 2012
When the Philadelphia Eagles drafted quarterback Nick Foles in the third round of this past year's NFL draft, it looked as if Andy Reid was already looking to draft Mike ...
August 29, 2012
Maurice Jones-Drew is holding out for a long-term contract because that's what great players do when they reach the apex of their respective careers.The NFL is a ruthless business, and ...
August 29, 2012
The latest buzz among the national media regarding the Dallas Cowboys is, of course, the "Dez Bryant Rules"—whether or not they are too harsh, necessary or even appropriate.  Some in ...